A Series of Letters Pt. 1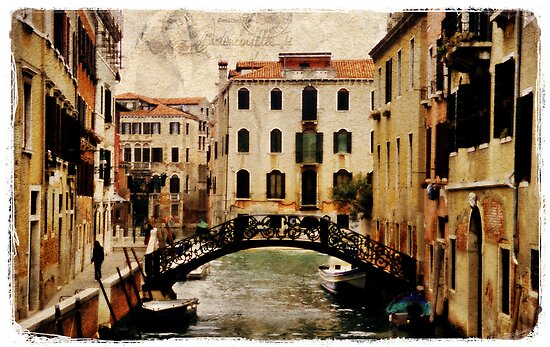 Letter to the Venetian Lagoon:
Sometimes, I remember you.
It's strange.
I'll be leaning against the balcony on the roof of my apartment, looking out to the Venetian lagoon; breathing in the sharp cold in winter, and the wet hot in summer, with my thoughts on the prices of groceries in the stands across from the church, down the street.
And then, it's as though your scent is conjured from all the different scents of all the different persons and all the different objects around me.
It floats up, and up, and up until it has managed to make it's way into my nose, and into my thoughts, and…I remember you again.
I don't remember your name, or your face, or what your voice sounded like, but I remember experiences. I remember holding your hand, and running through a crowded street to get to this deserted alley, in the middle of the day, because you wanted to kiss me so badly. I remember going to frightening places, like the edges of cliffs, or cemeteries at night, or crossing busy intersections, together, because we loved the rush. I remember how my face used to get hot, and my palms used to get sweaty, and how I would feel faint whenever you looked at me. I remember how the places where your skin met my skin would continue to burn long after we were separated.
They still burn.
Sometimes, I can imagine where your hands, and arms would meet with my hands and arms, now, connecting with the burns you left me, like puzzle pieces. 
Of course, I'd love to tuck your memory away into someplace deep inside me. I'd love to lose it within the course of my veins, in the path of my blood flow, in the beating of my heart. I'd love never to find it again.